I attended Burning Man for only a few days. I left a memorial to Cathy (my wife of 38 years) in the Temple.
---
2
0
1
7
I was unable to attend Burning Man in 2017.
---
2
0
1
6
My 15th year in a row. As in 2014, we camped in Illumination Village and set up the Photon Salon on the Esplanade. In addition to the Space Palette and Deeje Cooley's tappr.tv dome, I brought my UniLooper installation. Here's an album of photos and videos.

---
2
0
1
5
For my 14th year in a row, I decided to take a vacation from doing installations, and went as a (gasp) spectator. I used my newly-acquired 1990 Chevy G20 van and only went for half the week - got there Wednesday and left Saturday. Because I didn't have a project, I had time to check out the artwork more. It was a good year for art.

---
2
0
1
4
| | |
| --- | --- |
| For 2014 our sub-camp (Space Palace) within Illumination Village created another Photon Salon - this time it included a dome with Deeje Cooley's tappr.tv, and the first Burning Man appearance of the new furniture-quality Space Palette. | |
---
2
0
1
3
Twelve years in a row, wow! I again camped in Illumination Village, and this time created the Photon Salon - an enclosed 10'x20' tent to house a variet of light-based art. The walls of the tent were made of sun-blocking fabric, so projectors inside could be used and visible during the day. Next to the tent was a hammock area with 5 hammocks, which were a big hit both day and night. Dinko was instrumental in building everything, and a new friend Cedric Honnet was also invaluable with his inexhaustible energy and ideas. Heat inside the tent during the day was an issue, of course - it was a challenge to keep things cool enough for people and laptops - but I had things running most afternoons. Inside, the latest version of the Space Palette was available for people to play with. Actually, since the latest Space Palette was much smaller, there were FOUR Palettes, two at each end of the tent, with their output mixed together and projected on the wall. end of the tent. So, many more people got a chance to play them. Also displayed inside the Photon Salon was tappr.tv, an iPad app by Deeje Cooley - people could draw with various graphical wands on two iPads, whose output was mixed by a third iPad and then projected on the wall.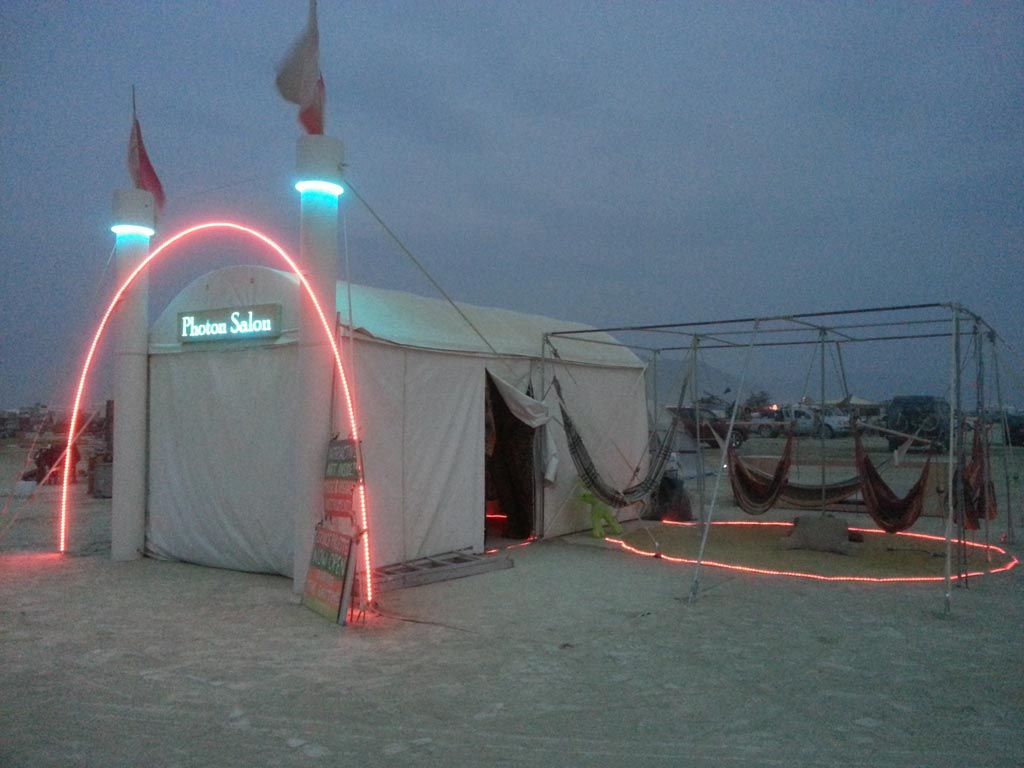 At night, the front wall of the tent was a projection screen for LoopyCam and tappr.tv. Here are some videos:




---
2
0
1
2
My 11th year in a row. For the first time, I camped in a large theme camp - Illumination Village - making it possible to install the Space Palette right on the Esplanade. It was running from 9pm to 5am almost every night, got a lot of traffic, and was enjoyed immensely. I was delighted to be able to reuse most of Monolith 2.0 (my 2009 installation) to make a wood projector screen that could withstand high winds without any guy wires. I also had LoopyCam running on the back side of the projector screen. I built protective boxes (with fans and filters) for the 2 projectors and 2 laptops. Dinko helped with building the screen, Alyssa helped with lighting and installation, and Claudine tirelessly helped with lighting, installation, and teardown. Here's a video showing people enjoying the Space Palette:

---
2
0
1
1
This was my tenth year in a row. In order to have a good location for my Space Palette installation and get early arrival, I applied as a (very small) theme camp for the very first time. It was called "Multi Multi Touch Touch Camp", and we got placed at 2:50 and B, next to the 3:00 Plaza. With Claudine, Dinko, and Guy, we set up the most luxurious camp we've ever had. Space Palette was installed in a shade structure, and it was running every night, all week.
---
2
0
1
0
This was my ninth year in a row. I built LoopyCart - an 8' trailer with a battery-powered projector and projection screen (visible from both sides). I pulled the trailer behind my bike, stopping at various locations (usually the large sound camps at 2 and 10 o'clock) to entertain folks with LoopyCam, often with Claudine Naganuma's dancing providing the visual input.
---
2
0
0
9
This was my eighth year in a row. The last time I did a playa installation was in 2004, so I was overdue. About 6 months before the event I started working on Monolith 2.0, an 11-foot high monolith (as in Kubrick's 2001 Space Odyssey). Special thanks go to Kent Sezen for structural engineering estimates, Dinko Matkovic for invaluable construction ideas and help, and Claudine Naganuma and Leah Chubb for installation help on the playa.

The monolith had a fairly complex interactive musical instrument on one side, and a simple blackboard on the other side. The instrument controls were designed for two people to play - each person had an independent five-track looper with lots of control over the sounds and looping. Colored chalk was provided so people could draw things on the blackboard - not surprisingly, the entire monolith was quickly covered in drawings. Here it is in my backyard:



---
2
0
0
8
I went to Burning Man for the seventh time in 2008, with Claudine Naganuma joining me in the 5th wheel for the entire week, and Craig Latta joining us on Thursday. On Wednesday, I performed music+visuals at the Entheon Camp, and on Thursday and Friday nights, Claudine and I did video looping stuff at our own camp, for the entertainment of our neighbors and passers-by (who were also included in the live looped video). This year I had a much sturdier shade structure, which provided the support for two screens, so I had two projectors going.
---
2
0
0
7
I went to Burning Man for the sixth time in 2007, staying with Math Camp (which included the Group W and Fast Furniture camps). Claudine Naganuma and Craig Latta shared the 5th wheel with me this time. I performed (playing drums) at Center Camp with Craig and Tim Walters, and did two video performances (graphics and camera manipulation) at the Abstininthe bar accompanying Claudine's dancing. I gave a "Math Makes Music" talk as part of the Math Camp speaker series.
---
2
0
0
6
I went to Burning Man for the fifth time in 2006, staying with the Group W theme camp. Three friends shared the 5th wheel with me - Herb Heinz, Mark Briggs, and Claudine Naganuma. I performed three times as part of the dud group with Herb, Mark, and Tim Walters. The first two occasions were at our camp and at the Lost Penguin Cafe - I did interactive graphics using a dancing and white-clothed Claudine as canvas. The third performance was on the main Center Camp stage, where I played (believe it or not) drums.
---
2
0
0
5
I went to Burning Man for the fourth time in 2005. I didn't do an art installation, and I had just gotten back from a 2-week cross country vacation, so I only went for a few days - got there thursday and left sunday. Cathy came along for her second time, and Steve Klinkner came along for his first time.
---
2
0
0
4
| | | |
| --- | --- | --- |
| I went to Burning Man for the third time in 2004. My friend Rick Ehrhart joined me - we both turned 50 this year, and this was his birthday gift to himself. | | |

To give out as a gift, Rick and I put together a little CD containing a few minutes of the audio from Radio Free Quasar. We used those cute little business-card-sized CDs. Below are MP3s of the tracks on this CD:
---
2
0
0
3
I went to Burning Man for the second time in 2003. I built a large interactive installation, and my wife Cathy joined me to share the experience and help build and maintain the installation.
Preparation
These pictures show the construction of my interactive installation.
During (in general)
These pictures of things at the event were taken with a Pentax Optio S.
During (the Lyre)
These pictures focus on the Lyre and the people using it.
My installation was called 'Dancing Under the Stars of Lyra'. Below you can find a 7-minute video of people dancing on the pads in front of the big Lyre, generating their own music and controlling the individually-lit strings of the Lyre. Depending on the speed of your connection and patience, select one of these links to view the video:
---
2
0
0
2
I went to Burning Man for the first time in 2002. See the Burning Man web site for lots of information about Burning Man.
Diary
A day-by-day account of my experience.
Pictures
These are the pictures I took with a Minolta S404 camera.
Video
A 40-second video of people dancing on my dance pads and making music. Thanks to David Van Brink for the excellent camera work. If you have a fast connection, you can try the higher-quality 8-meg version.

---