works words
newsletter - winter 2003/2004
August 22, 2003 through September 19, 2003
This show at Works was well packaged - Susan Sobeloff, curator of the show, did a great job of bringing together five artists - Lily Cox-Richard, Leslie Holt, Terry Nauheim, Hank Thomas, and Susan Sobeloff herself - all with very different angles on American popular culture. Not only that, for opening night - on August 22 - Susan invited David Spalding, an arts writer and educator living in the Bay Area, to walk and talk the audience through the show - a decision that was definitely a value-add to the event.
To top things off, the next evening, Nauheim, Cox-Richard, and Holt - three of the participating artists, gave a lecture which expanded our understanding of their work. That same evening, in conjunction with Popular TM, Cristina Lei Rodriguez hosted and reigned over Popped. This was an evening of performance art and action exposing and ranting on a culture bent on consuming and being consumed which included such artists as C-RO, David and Jenny, Ukiyo Morisake, Trevor Stone, Mr. Francis Pink, and Niki Ford.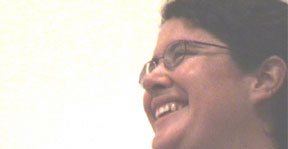 With Popular TM, Sobeloff was interested in putting together the work of artists that would lend an expansive view of popular culture - not only in terms of materials used but also in terms of each artist's emotional response to the subject matter. Spalding concurred and added that the show itself had this feeling of immersion, akin to living and being steeped in pop culture - stating that the artists in this show "were working within consumer culture" to better subvert it.
Spalding characterized Hank Thomas' work "as this amazing, difficult, provocative installation". He added that Thomas' huge, glossy, photographs referenced slavery by portraying the iconography of sports culture (such as the Nike logo) literally branded into the body. Spalding mentioned that the branding on the body could be read either as a way of making something one's own and then subverting it - or as a marker, subsumed within the corporate collective. This made the work ambivalent, because it questioned who was in control of the brand. Furthermore, observed Spalding, Thomas' work opened up the dimension of labor, with clocks that marked several production sites for this type of sportswear, implying that through the consumption of these products one would be extending "the legacy of slavery into the present".
In conversation with Spalding, Terry Nauheim talked about her work being about creating hand-made copies or manipulations of mass-produced objects. Although she had originally carefully organized her replicas of vinyl records as a mandala on the floor, she mentioned it was "a high compliment to her work" that a child had decided to play around with them and rearrange them. More recently, Nauheim explained, she has been focusing on working with digital media (as exemplified by her hand drawing transcription of digital audio) in which she was trying to establish a more personal relationship with that particular medium.
Lily Cox-Richard told rather fascinating stories about her work. Lying on the floor were her huge, linoleum-based aerial maps of two sites: Wall Drug, South Dakota, and her family's small farm in Northern Virginia. She also exhibited a handful of color-saturated pictures of these places on the wall. She saw both sites as referencing stage sets or backdrops, providing tourists with a simulated taste of what a small town and a small farm experience is fantasized to be. During her travels throughout America on a truck with her then trucker boyfriend, Cox-Richard felt compelled to work for a summer in Wall Drug selling cowboy boots. She explained that this small town was nothing but a roadside attraction, not a destination site like Mount Rushmore, and that tourists were lured into this rest area with billboards placed for miles surrounding the small town. Tourists stopping at Wall Drug obsessively bought souvenirs - such as trinkets and T-shirts - as if to prove or document to others that they had been there, in the West. Similarly Cox-Richard converted her penny souvenirs, which she collected throughout her travels, into a charm bracelet - which she exhibited as jewelry, encased in a see-through box and mounted on black velvet. If Wall Drug is a simulated experience for a small town, Cox-Richard mentioned that herparents' farm originally destined for agriculture, had been converted, out of economic necessity, into an entertainment site for tourists who wished to experience what it would be like to live in a small farm. Spalding mentioned that her use of linoleum for the floor maps and her color-saturated photographs worked well to emphasize that these places had become images of themselves, a spectacle, rather than experience.
Leslie Holt's careful, beautifully lush paintings and her video, looping on a small plasma screen, focused on one topic: psychotropic medications. "My mother is very mentally ill" explained Holt, "these meds have been a very important part of my life, they always have been. In my adult life I've worked with mentally ill folks?the medicine was such an important part of their health, and yet they were so resistant to taking the medicine". She talked about how these paintings, set in this context, were "like artificial narratives about my life, fake scenarios that ring true emotionally". Spalding mentioned how these paintings spoke to the general public, because most of us know of people on medication or have taken medication ourselves. He also expanded on how psychotropic medications embody the way we think about consumerism, because these drugs are marketed as bridging the gap between oneself and one's ideal self, the same way that a car or an article of clothing are marketed as fulfilling that role.
Finally, Sobeloff's work, which used cereal boxes to evoke domestic space, also worked with this sense of transformation. Sobeloff mentioned that when she first conceived of her work, she was thinking about how basic materials such as rice and wheat are transformed into these highly processed and highly packaged things: cereal in a box. By using these boxes to look like houses, she was referencing "this architecture of necessity, where garage doors in San Diego become sidings for houses in Mexico". She was particularly interested in these transformations that took the detritus of consumer culture and morphed this discarded material into something that could be seen anew. She mentioned how she could see these creative re-formulations in all of the pieces selected for Popular TM.
Spalding praised the show - "rather than appropriation I was thinking about it as hijacking - a little more dramatic - it's not as simple as moving something into another context - there's material and conceptual re-formulations" that speak to something that's new and quite original.
Nora Raggio
An interview with Michael Pauker - Artist in Residence (AIR) at Works
September through November 2003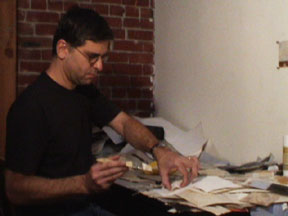 Tell us briefly about yourself and your background
I am a visual artist. Most of my work is in collage. I was trained as a painter and printmaker. Grew up in New York and went to the State University of New York (SUNY) and got my Masters at Mills College, Oakland. I've been doing collage since 1990 or so. I teach at a variety of places and enjoy that as an adjunct to the solitary nature of my art making. I also taught at the California Medical Facility in Vacaville (the State prison system's hospital) for several years.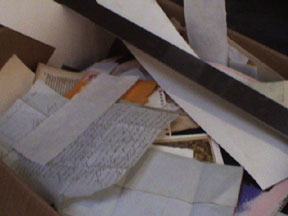 How do you approach your work?
I started off with collage because I've always been a collector, a pack rat – and at a certain point one reaches critical mass – I was either going to get rid of it all or I was going to do something with it to justify keeping it all around. I was impatient with painting, so I needed something else. The thing that I've learned about collage is that you can make decisions very quickly – you can make provisional decisions and then change them – and I love working with very old material.
As far as how I work, I've got all my archives here (pointing to boxes brimming with stuff) - that's the first part of my work – at this point I've amassed enough that I don't need to collect any more, but I'm always on the prowl for more…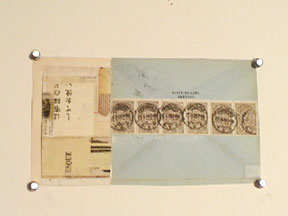 You seem to collect very specific items – can you talk about that?
What do I collect? At this point I can tell if I see something whether I can use it or not – I'm looking for stuff that is old or has the appearance of age. I select things from many, many different cultures and time periods. A lot of the stuff is philatelic – a lot of them are 19th century letters that have a lot of different markings – so I like the idea that I'm in a sense, collaborating with some anonymous postal clerk on the border of Switzerland and Italy going "cachunk" – the idea of creating art was really not on their mind – and now I'm using them, giving them a new life.
Regarding your teaching – you mentioned you worked in a variety of venues, including the penitentiary system – can you talk about what appealed to you about that?
I was naively interested in working with prisoners and specifically I was working with mentally ill persons – I was naïve in the sense that I thought I would see a lot of art that I'd seen in collections of art of the insane – what I really didn't factor in was that, in this age of pharmacology, a lot of those impulses are buried? under the drugs – that was one of my interests in working with that population.
I found it exciting to work with people for whom art was so powerful. So when I first walked in to a maximum security prison I was wondering – what can I offer these people – and you know, they were sitting there with biceps bigger than my thighs – and they'd ask "You're an artist? Out there in the streets?" and I'd say "Yeah" and I would gain this respect because art is really valued in the prison system as it turns out. Their ideas of art are often different from ours – tattooing, for example – but I was amused to find, in a way, that art was so powerful for them – especially working with mentally ill patients – basically people with ruined lives – probably most of them would be spending time in jail or in a mental hospital – I felt like I was able to offer them a gift of some kind – within the context of the picture frame in which they were working – if nowhere else, they had a kind of freedom and self-confidence –
We take our freedom for granted – I mean I would only spend at times 3 hours per week – and I would sometimes, when I left, kiss the ground – the prison system is such a medieval institution, even today
Thank you for that.
Are there any influences that are meaningful to you in your work?
Kurt Schwitters is certainly my most direct ancestor, aesthetically speaking – the thing I particularly loved about his work – was that he was one of the first to look at the junk left by people on the streets in Germany, and he would pick up a bus transfer ticket – he would pick up the flotsam and jetsam of human life and turn it into art. I like the quote of his "the waste of the world is my art" – and that's kind of an aesthetic credo I espouse. I think that most of what resonated for me when I was growing up was Abstract Expressionist painting – and even though I work on a much smaller scale generally, and I work on paper – I think that in the doing of these - they're not unrelated to what the Abstract Expressionists were up to – working very intuitively and being very interested in mark making. I think I'm still trying to forge into what they were doing by taking Surrealism, chance, and melding it with some kind of abstraction.
Tell us about your experience at Works
It's been nice to have a studio outside of my house. I live fairly far away and haven't been able to be here as often as I would like – and yet, at the end of my residency, I'm kind of staggered at all the work that I've done – around fifty pieces in three months – which include hiatuses of not working – so – I'm grateful.
Thank you. Thank you for being here with us.
Interview by Nora Raggio
Performance Night - Saturday 9.27.03
Featuring: Kenneth Atchley, John Bischoff, Judith Ogus
This was an outstanding performance – an evening of intellectual and sonic/word stimulation. Two huge names in electronic sound installations, John Bischoff and Kenneth Atchley, were joined by the talented, new beat poet Judith Ogus.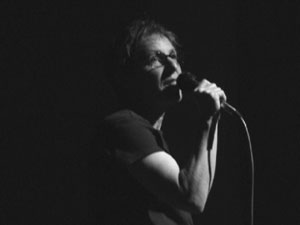 Ogus gave an extraordinary spoken word medley of life's cycle phases - birth/childhood; love/sex; life/art; middle age; death. Among some of the most celebrated phrases in this powerful verbal marathon – during the death phase – was "stop the argument with entropy."
Kenneth Atchley, in his piece 1425, captured the audience with his fountain installation. Created out of light, spurting water, and plastic containers (one finds, say, at a local drugstore) stacked to form two parallel towers - this assisted sound-fountain (seemingly lit from within) was powered by Acthley through his laptop-programmed pumps, transducers and vessels.
Bischoff, with his piece piano 7hz, aperture, override, launched the public into a deep sonic trance. Made alive by the programs Bischoff had composed on his computer, his array of bells, carefully arranged and lit front stage, rang like a sonic sculpture. Bischoff made the small set of distinct-sounding bells himself, and then linked them electronically to form a sort of spiritual local area network of sound, controlled through Bischoff's laptop.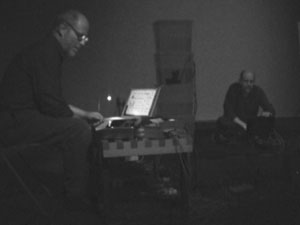 Before the night ended, Achtley and Bischoff joined in what seemed a cooperative/competitive medley of improvised sound generated by these two prominent audio installation artists. Bischoff and Acthley interacted attentively with each other and their laptop programs to create a stunning electronic sound composition.
This evening's performance was an intimate excursion into the experimental, the playful, and the successfully heady style of three outstanding human beings.
Nora Raggio
Boisterous Alive Raucous - New Music Night - Friday September 26, 03
Featuring: Tim Thompson, Michelle Webb, The Abstractions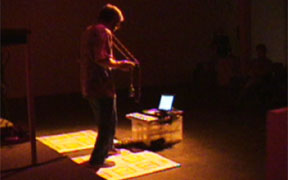 Tim Thompson opened the show. He was simply fabulous - dancing his way across a couple of dance pads, activating electronic sounds. As if he were playing dual hopscotch, he complemented his musical dance-tap with a wireless qwerty keyboard hung around his neck. The synthesized tunes generated by the combo of feet and hands seemed both familiar and eerily entrancing.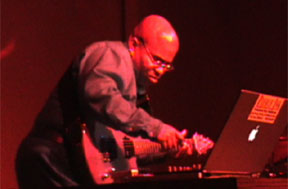 It was Michelle Webb who really thumped the show into gear, creating a raucous experimental soundscape. I felt thoroughly energized, as if my cells were being fed dense noise, atmospheric sounds – packed tense with emotion. Michelle relocated to the Bay Area from New York in 1998. Among her array of expressive tools, she included laptop, electric guitar, woodblocks, and electronics. She was my fave.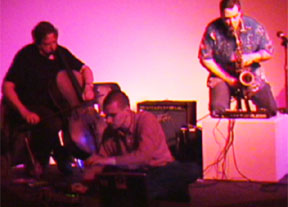 The Abstractions dished up the show's musical coda. This group is composed of an uncanny mix of musicians including Rent Romus (reeds, toys, voice, zitherod); Lance Grabmiller (laptop processing); Phillip Everett (drums/percussion/autoharp); and Bob Marsh (cello/voice/accordion). Cacophonous sound emanated from the sometimes planned, sometimes improvised interactions of the group – it felt like a weird immersion into a combo of electro-acoustic jazz bordering on post-rock – a novel mix of the past and the future.
Those who missed this music event were robbed of a night that was boisterous, alive, and raucous.
Nora Raggio